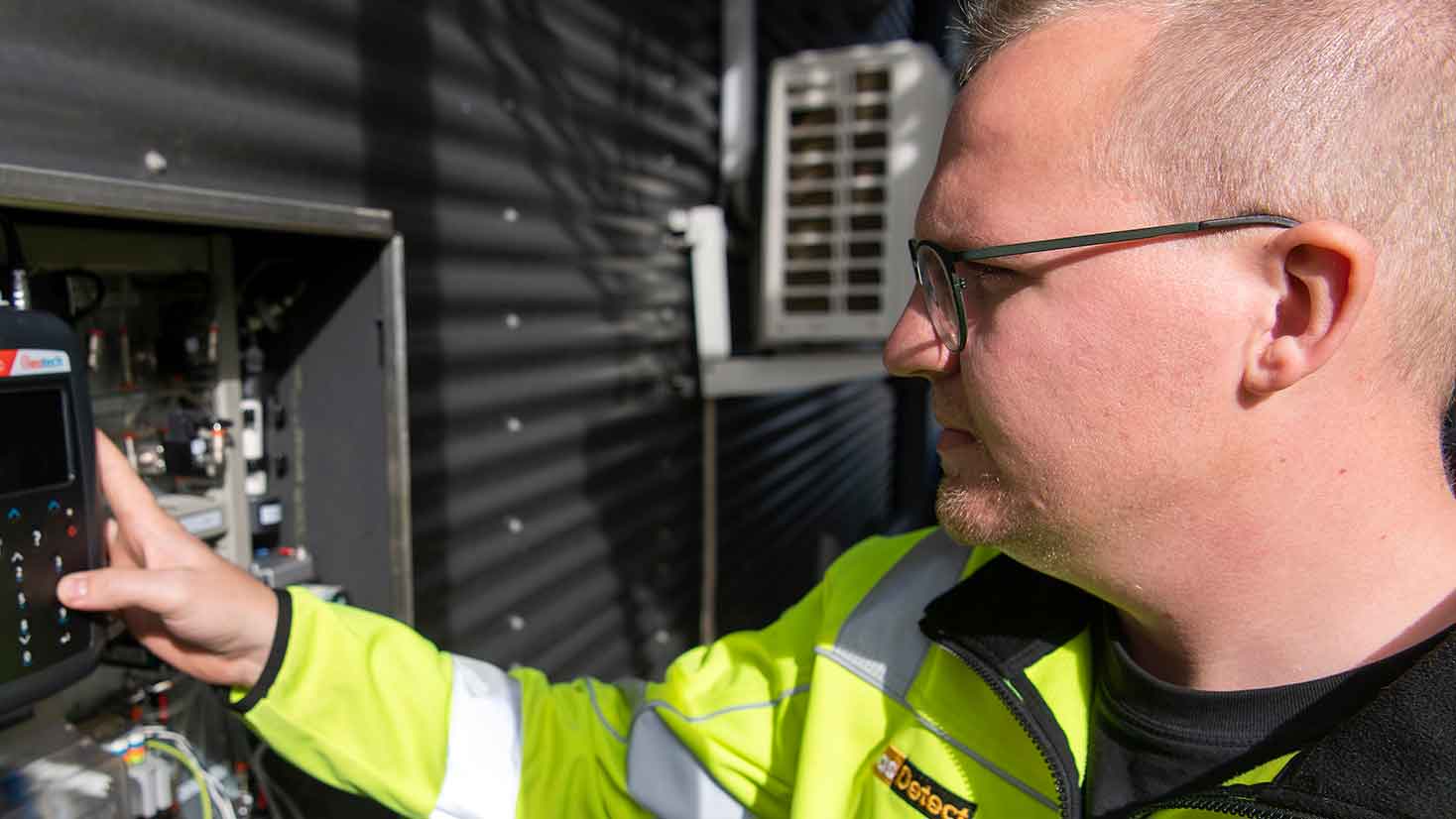 Gas safety using gas detection and gas analysis is a technical niche that helps to create the necessary safety. This knowledge can ultimately save lives. Jacob Kloster Callesen is a sales engineer at Gasdetect.
Gas safety what is it? How do you get to work with this? Here is how an HTX student from Esbjerg Teknisk Gymnasium, who was conscripted at the marines, ended up as a sales engineer at GasDetect.
"I wanted a technical education, but it had to be suitably challenging and, not least, have development opportunities. When I served my military service in the navy, the machinist education appeared as an obvious choice in relation to the wishes I had,' he says.
During his military service, Jacob got to test his technical skills in practice at sea.
"I got in the machine, and that experience certainly did not deter me – quite the contrary. After all, a ship is almost an independent factory with all kinds of technical facilities, and it was a big challenge, which confirmed that I had to go the machinist route,' Jacob Kloster Callesen continues.
He subsequently applied as an aspirant at Mærsk, and that position also secured him a study place at SIMAC in Svendborg. During his training, he was out sailing a few times with container and tankers and thus found out that he should not sail long-distance.
"The work on board was exciting enough. But I experienced, among other things, a colleague on board who could not come home for his son's wedding as planned because there were changes in the sailing schedule. I wasn't deterred from sailing as such, but it became clear to me that I wasn't going on a long voyage as a machinist,' says Jacob.
Looking for niche area
Otherwise, the machinist training completely met his expectations – and more.
"I liked the way that theory and practice complemented each other. I was also happy with the management subjects. Technically, it was especially environmental engineering and processes at biogas plants and purification plants that were exciting. However, I stuck to the plan to start my working life with sailing,' he says.
After completing the machinist training in 2019, he got a job at Esvagt.
"Esvagt has four weeks of training with four weeks at home. It was a good workplace, but I had to realize after three musters that I couldn't make the job fit in with my private life. I think there was too much I had to say no to when you were away for a month at a time,' says Jacob.
He resigned from Esvagt without having a new job.
"I didn't know exactly what I was going to do, but I had a desire to find a niche where I could immerse myself and become more skilled. I applied for several jobs that had in common that there seemed to be an opportunity to work with a niche area that you could immerse yourself in. During the job search, I came across an advertisement from Gasdetect. The job that was described here met my desire for specialisation,' says Jacob Kloster Callesen.
He applied for the job and after a few interviews he was offered the position of sales engineer. Now begin the journey, specializing in gas safety.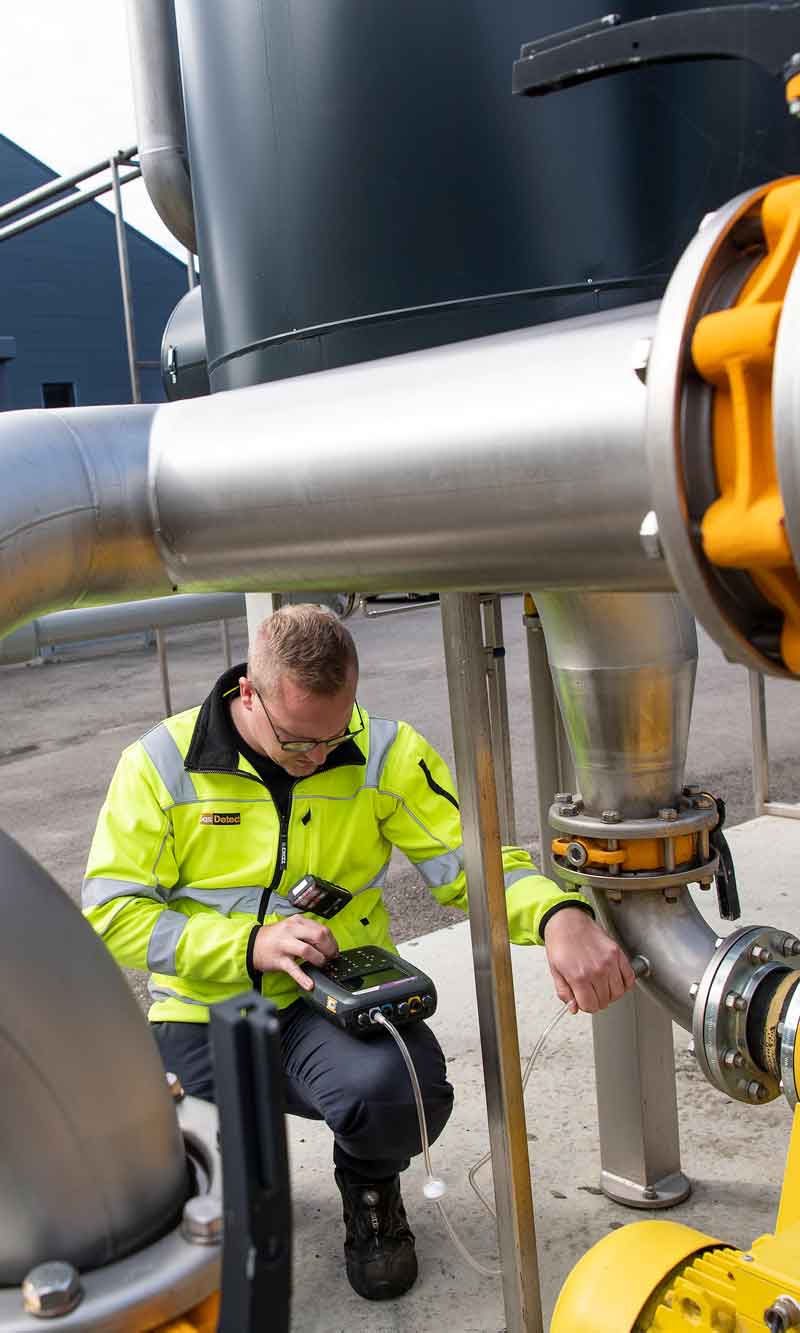 Steep learning curve
The machinist education provides a broad technical foundation, which is a good starting point for specialisation.
"I experience the breadth of the education as a huge advantage during the education itself. You come a long way in the technical world. On the other hand, the disadvantage of the great breadth is that you don't become really good at something specific. You can say that the education prepares you well to become really good at what you immerse yourself in. For me, it has now become gas detection and gas analysis, « says Jacob.
Gas detection and gas safety is a niche area in several ways. There are few companies in Denmark that employ relatively few people in the industry and quite a few machinists.
"I came to the job with a bit of knowledge about hand-held gas detectors on ships, which are used in closed spaces. You don't learn much about gas safety, gas detection and gas analysis in the machinist training. I knew little about having to take into account different types of gases that could be toxic or explosive, in addition to asphyxiating gases where the oxygen is displaced. We have also learned a bit about biogas production. But now I had to be a sales engineer and advise customers on gas detection. It has required a very steep learning curve,' says Jacob.
Focus on customer needs
There was also another hurdle in the job – becoming a salesperson.
"I'm not the type who kicks in customers' doors as a salesperson. That's why I had really imagined that I shouldn't have a sales job. But I have been disproved at Gasdetect. It's not a traditional sales job, either,' says Jacob.
The tasks are divided so that his sales manager Mads Lysdal Hansen is the outreach salesperson who visits new customers, while Jacob advises existing customers to a greater extent and provides support to the driving technicians regarding products and other gas safety issues.
"In my job, it's not so much about direct sales. It's about focusing on the customers' needs and not just selling solutions all the time. In addition, I project new solutions, which can be more or less detailed, based on the customers' wishes and needs. We see ourselves more as consultants and advisers who can offer the customer to buy a solution from us,' he says.
For Jacob, there has been a huge curriculum to acquire in the job at Gasdetect.
"With the machinist education, you have a good starting point for acquiring new knowledge, and much of my new curriculum deals with physics, chemistry and engineering. I must be able to put myself in the customers' shoes and understand their processes, for example at a biogas plant or a treatment plant. The education helps me with that,' he says.
AGA certification
As part of the training, he has been sent to courses with Gasdetect's suppliers in England and France, among others, to be taught their products. In addition, he has become professionally responsible for electricity at Gasdetect. And the next step is for him to become personally certified in AGA – Automatic Gas Installations.
"In order to be approved by the authorities to design, complete and service automatic gas systems, we must have an AGA-certified employee in the company. Today, my boss Søren Torsbjerg Møller is the company's certified person, but following a desire for redundancy in the company, I will now also be one on the basis of a number of courses and the experience I have acquired here at Gasdetect. So, all in all, I have experienced a huge upgrade of my qualifications in a very short time,' says Jacob, who has just completed his first year in the job at Gasdetect.
The AGA certification is necessary, among other things, when gas detection systems are to be installed, which send alarm signals to fire authorities in the event of a gas leak.
"Most gas plants alarm internally, but in some places there is a requirement to alert the local emergency services, and for those plants you must have both competences and certifications in place," says Jacob.
He is still getting to know his new niche within gas safety, but has been well trained by skilled colleagues and a close collaboration with sales manager Mads Lysdal Hansen.
"Gasdetect saves nothing when it comes to upskilling its employees. If a course is needed, for example in ATEX, then we will be sent,' he says further.
Long-term partnerships
His working day usually involves giving telephone advice to customers, answering questions, making agreements about service and selling solutions.
"When the phone doesn't ring, I typically sit and make documentation and installation diagrams for new systems. With an electrician reexam from the training, I am part of the service we provide to customers as well as the installer who is hired to mount and install the purchased gas alarm system. Here it is important that the accompanying documentation is correct and sufficient. There is a bit of an octopus in the job, you go a lot from one type of task to another, and the customers decide a lot how the day will look like,' says Jacob.
Some days he drives out to customers – especially biogas plants and treatment plants.
"I have become a specialist in this type of process customer. Here you have to familiarize yourself with their specific processes in order to be able to advise on the choice of components. At biogas plants, it's about gas detection to protect employees in the event of gas leaks, but in addition we supply equipment for gas analysis to ensure the gas quality and its constituents of methane, CO2, hydrogen sulphide and oxygen,' he says.
"We try to create partnerships with customers for the benefit of both parties. They get advice and can use us as support and sparring partners, and we make sketches for new installations without committing them to a purchase. On the other hand, we get some long-term customer relationships, and we may also be recommended to new customers,' says Jacob.
Knowledge of gas safety saves lives
He still uses the machinist training in his job, but perhaps more unconsciously as a general understanding of technology and processes.
"As machinists, we typically have both a holistic understanding of processes and a sense of responsibility in our approach to solving tasks. Gasdetect has a motto "We save lives with knowledge", and this must be understood quite literally. We recently had a customer call our 24/7 hotline. The customer called because the gas alarm had gone off, but he was unsure what to do and how serious the problem was. It turned out that they had a room full of explosive gas, and that the customer should immediately leave the room, shut off the gas supply and ventilate. If they hadn't had gas detection, it could have gone really wrong. Gases are often odorless, so you need the right equipment to avert dangerous situations. We also see it in agriculture at slurry plants, where things can quickly go wrong due to hydrogen sulphide poisoning, where employees fall over fainting. Without alarms, there is a high risk of accidents of this kind,' he says.
He encourages other machinists to consider the gas detection business.
"You are challenged every day, but you also get a lot in return because you work with safety. Now I use my education to work with solutions that save lives, and that makes a lot of sense to me. That way, the job becomes very motivating,' says Jacob.
About GasDetect
Gasdetect supplies gas alarms and gas detectors for industry, agriculture, biogas plants, treatment plants and more.
Gasdetect stands for planning, configuration and maintenance/service.
Gasdetect is certified for the installation of AGA – Automatic Gas Systems.
Gasdetect belongs to a group of instrumentation suppliers, the others being Aquasense and Instrutech, all owned and operated by Søren Torsbjerg Møller.
GasDetect lives and breathes for gas safety, and to advise customers according to the customer's unique situation!
By Joel Goodstein – Foto Lars Møller