Gas detectors for gas leaks in refrigeration systems
Precise and safe gas detection effectively increases personal safety when setting up, using and maintaining refrigeration systems.
Gas detection in refrigeration systems is often a necessity or mandated due to the risk of explosion or the risk of toxic gases escaping.
There are several factors that come into play when it comes to choosing a gas detector. The refrigerant used plays a decisive role, just as the contents of the refrigeration system can have an impact on which gas species must be monitored. Typically measured for NH3 (Ammonia) and CO2 (Carbon dioxide), which can be fatal to humans. These gases pose a safety risk to you and your colleagues if an accident occurs and they escape into the working environment.
The gas detectors continuously monitor any gas leaks and give an alarm when limit values are reached. Associated central units ensure automatic control of ventilation, flashing lights and horns. You comply with all safety requirements, effectively reduce the risk of explosion and increase workplace safety for you and your colleagues with gas detection equipment from GasDetect A/S.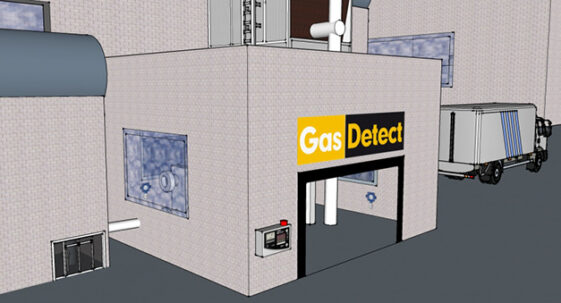 Specialists in gas detection
GasDetect A/S are specialists in gas detection. With us you will find a large selection of gas detectors particularly suitable for the installation, use and maintenance of refrigeration systems. You can see a selection of our popular products below.
We guarantee quality equipment with high durability and a long service life. That is why we carry only the best products from the world's leading manufacturers. Increase personal safety at your workplace.
Contact GasDetect A/S today.
Our experienced experts are of course ready to advise you on the solution that matches your specific case, needs and requirements.