Two conditions are particularly interesting in relation to the use of gas detectors in connection with Atex zones/explosion-hazardous areas.
Use of non-ATEX approved equipment in ATEX zones
According to the ATEX directive, it is possible to use non-ATEX approved equipment in zone 1 and zone 2 areas, provided that the use is monitored by certified gas detectors. There are two options below:
Use of battery-powered tools, such as screwdrivers, telephones etc. in areas that are ATEX Zone 1 and Zone 2 classified. A handheld gas detector can be used to give an alarm at the relevant LEL level, often set to 10% LEL. When the alarm level is reached, the person must immediately go to an unclassified area, bringing all equipment. It is estimated that you can manage to leave the area in the time it takes for the level of LEL to rise to 100%.
Use of equipment with fixed electricity supply, such as lighting, compressors, painting machines etc. that are not ATEX approved, in Zone 1 and Zone 2 areas. Non-ATEX approved equipment can be used in classified zones if the entire area is effectively equipped with gas detectors and the alarm system is hard-wired to disconnect the power supply to all affected equipment. Please note that the disconnection equipment must either be located in a non-classified zone or made in EEx d enclosure. The solution can often make the overall electrical installation cheaper. Remember certified emergency lighting.
Use of gas detectors to limit the extent of a spill in potentially explosive areas
Gasdetektering af eksplosionsfare øger effektivt personsikkerheden ved arbejde i ATEX-zone 0, 1 og 2.
By connecting an output from a central gas detector directly over a shut-off valve that shuts off the supply of explosive gas or liquid to an area, you can effectively stop or limit an accident.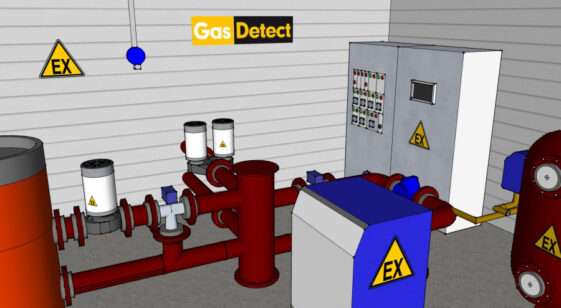 Specialists in gas detection
GasDetect A/S are specialists in gas detection.GasDetect A/S are specialists in gas detection.
With us you will find a large selection of ATEX approved gas detectors particularly suitable for zones 0, 1 and 2. You can see a selection of our popular products for ATEX zones below.
We guarantee quality equipment with high durability and a long service life. That is why we carry only the best products from the world's leading manufacturers. Increase personal safety at your workplace.
Contact GasDetect A/S today.
Our experienced experts are of course ready to advise you on the solution that matches your specific case, needs and requirements.