Gas detectors for exhaust gases in parking garages
Precise and safe gas detection effectively increases personal and material safety in parking garages.
Gas detection in parking garages is often a necessity or mandated due to the risk of explosion or the risk of the development of toxic gases. There are therefore several areas of risk that you should be aware of if you are responsible for the safety of parking garages.
Carbon monoxide (CO) and hydrocarbons (gasoline fumes) are gases that occur in parking garages and other places where motorized vehicles are used. These gases pose a safety and health risk to you, your colleagues and your customers if an accident occurs and they escape into the room. In the event that the ventilation does not work optimally, a flammable concentration in the air can quickly be reached, which is dangerous for people and in the worst case can trigger an explosion.
The gas detectors continuously monitor the gas concentration and give an alarm when limit values are reached. The central unit ensures automatic control of ventilation, so that the ventilation only runs when there is a need for it – and energy savings are achieved. The control unit also emits flashes and horns for quick evacuation. You comply with all safety requirements, achieve valuable energy savings and increase the safety of you, your colleagues and customers with gas detection equipment from GasDetect A/S.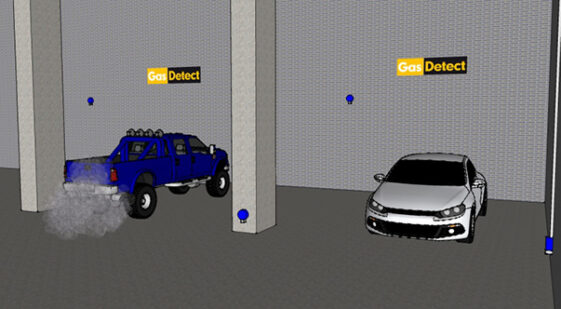 Specialists in gas detection
GasDetect A/S are specialists in gas detection. With us you will find a large selection of gas detectors particularly suitable for parking garages and car workshops. You can see a selection of our popular products below.
We guarantee quality equipment with high durability and a long service life. That is why we carry only the best products from the world's leading manufacturers. Increase personal safety at your workplace.
Contact GasDetect A/S today.
Our experienced experts are of course ready to advise you on the solution that matches your specific case, needs and requirements.