Calibration gases, your assurance of quality gas…
Every time!
Calibration gases, you say?
How to ensure that gas detection equipment works correctly and reliably every time? This is done with calibration gases / test gases of the best quality!
It is important that the equipment is always calibrated to the real world. That's why we have everything in calibration gases and related equipment that you need to make a successful calibration.
Calibration gases are used to test that the gas detector detects what it should and gives an alarm at the desired concentration. This calibration and test can only be performed when the concentration of the test gas in the bottle is known. Therefore, our standards in relation to calibration gas absurdly high! We only use ours own import and suppliers that we can vouch for. So do you need to use test gas to calibrate equipment?, – then we are always ready to ​​  with our advice and expertise.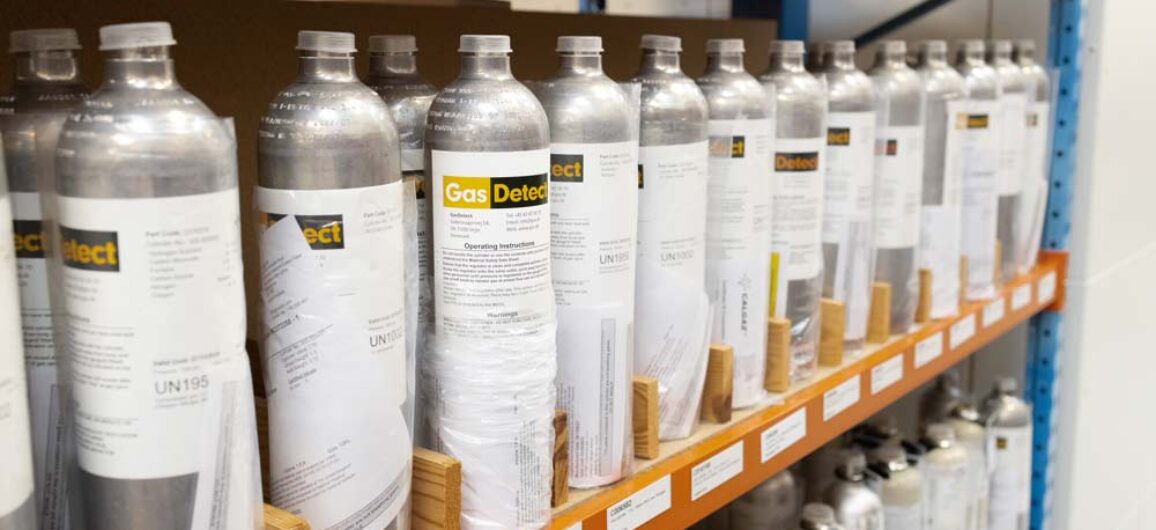 We use calibration gas as we know exactly what it contains. This way we also know how the equipment must react and what the display must show. If there are inaccuracies, we know there is a mistake. That way, we can correct errors before the gas detector has to protect anyone.
We use a lot of different calibration gases on a daily basis! We do this to always be able to achieve a precise result. If a calibration is not carried out correctly, it can ultimately cost lives! So to answer the above question, we use many different calibration gases every day.
How often should you check your detectors?
Our clear recommendation is to bump test the equipment EVERY DAY! It does not have to be a full calibration, but a "bump test" should always be performed before a gas detector is used in daily work.
"Bump testing" is when you expose the gas detection equipment to a small portion of the gas it is supposed to detect. This is done solely to see if it goes into alarm and that all functions work. Does it not do that?, – it must be serviced either internally or with us.
That way, you or your colleagues are always protected!
You can read more about "Bump test"
here
.
If you want to make it really easy, ask for a Bump'n'Go kit. It consists of:
Small cylinder with gas for 250 "Bump test"
tube
Adapter for detector
Gas regulator
Our most used gases
We have an endless selection of gas variants, so contact us and we can certainly help you further!
| | | | | | |
| --- | --- | --- | --- | --- | --- |
| IS18109157: | 116L | 100ppm CO | 25ppm H2S | 18% O2 | 25% LEL C5H12 Pentan |
| IS18106633: | 650L | 25ppm H2S | | | |
| IS1810913: | 103L | 2,5% CO2 | | | |
| CGC006565: | 112L | 500ppm NH3 | Rest. O2 | | |
| CGC011695: | 60L | N2 – Nitrogen 99.999% | | | |
| CGC016181: | 112L | Zero air – Oxygen 20,9% | | | |
It doesn't matter if your equipment is from us or not, we want to be your guarantee for a safe calibration.
Accessories when working with calibration gas
If you're missing something you can't see?, - we probably have it anyway!